STATUS SERIES POWER CAGE – SPORTSART (A966)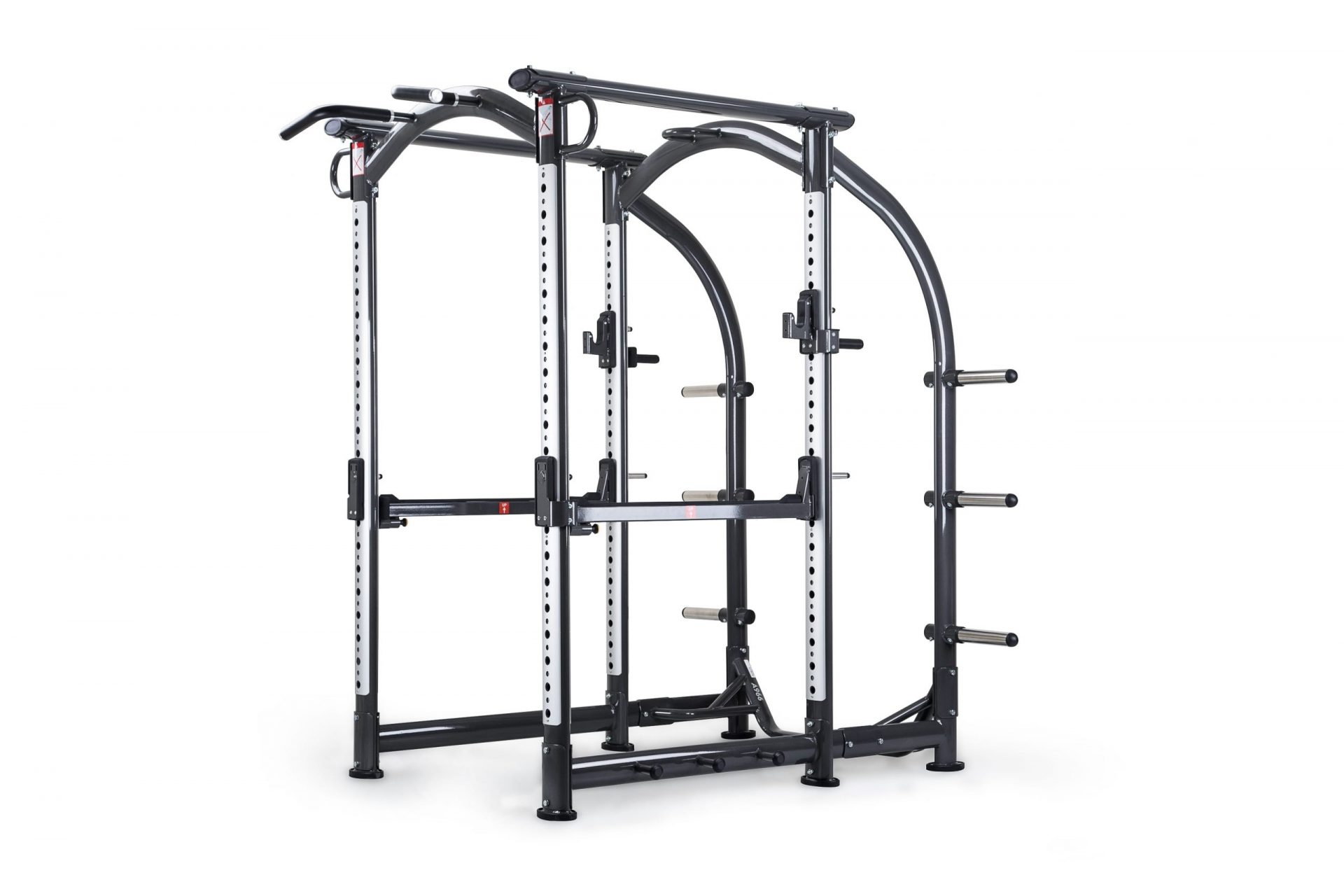 STATUS SERIES POWER CAGE – SPORTSART (A966)
$4,295.00
$4,295.00
SportsArt Freeweight strength products are made using the highest quality materials and manufacturing process. Each piece uses 11-gauge steel and oval shaped tubing with robotic welds and a scratch resistant powder coat frame.
Description
SportsArt A966 Status Series Power Cage – The A966 Power Cage from SportsArt Fitness is a full commercial squat rack designed for heavy duty use in any club setting for weightlifting, powerlifting, and functional training. The SportsArt A966 Power Rack has 21 height adjustment positions on both the front and rear uprights to allow quick and easy custom fitting of bar hooks and safety bar catches to the perfect height for nearly every exerciser engaged in strength training. Lower band pegs on each side allow progressive resistance band training for squats and bench press exercises. Band and strap loops on the rear cross-member as well as both front uprights provide multiple anchor points for suspension trainers, stretch straps, resistance bands, and large loop bands, and can also be used for hanging storage of bands and chains. Variable grip bar on the front crossmember offers the ability to perform narrow neutral grip chin-ups as well as wider angled pronated grip pull-ups for bodyweight training.
The robotically welded 11-gauge steel frame includes stylish, sleek lines and curves created through oval tube steel. The A966 training rack has a 550 pound maximum weight load rating for heavy leg training and chest training. Major frame pieces bolt together allowing easier transport prior to assembly. Electrostatic powder coating insures the finish is resistant to scratches and dings for a long term beautiful finish. Rubber non-skid feet cover base frame supports to avoid sliding of machine or scratching of floors. Three Olympic-sized weight posts on each side of the rack (6 total) offer generous weight plate storage up to 1232 pounds. All components are commercial grade on SportsArt's world-class health club strength products to make the A966 Power Cage perfect for any commercial gym, fitness center, home gym, hotel workout center, personal training studio, or corporate wellness facility. The SportsArt Status Series combines quality and value in a simple, easy-to-use free weight strength line designed to accommodate users of any fitness or experience.
Purchase SportsArt Free Weight Strength Equipment on GSA contract – All SportsArt Fitness commercial strength equipment can be purchased from Ironcompany on GSA Contract GS-07F-0104M and CMAS Contract 4-12-78-0066A.
Features and Specifications:
Commercial rated
Robotically welded 11-gauge oval tube steel frame with bolt together design
Scratch resistant electrostatic powder coated frame
Charcoal Gray frame color
Large Olympic-width bar hooks for easy racking
Safety bars with pop-pin locking mechanism
21 adjustment positions on uprights for bar hooks and safety bars
Variable grip pull-up bar
6 resistance band pegs (3 on each side) on lower frame supports
6 weight horns (3 on each side) for storage of Olympic sized plates with 2-inch center holes
Suspension trainer anchor point inside cage on rear crossmember
2 additional high anchor points on front uprights which can also be used for hanging storage of bands and chains
Rubber non-skid feet cover base frame supports
Assembled Dimensions: 82.7″ L x 76″ W x 90.7″ H
Unit Weight: 451 lbs.
Maximum user load weight: 550 lbs.
Maximum plate storage weight (on weight horns): 1232 lbs.
Full Commercial Warranty (no usage limit regardless of setting):
Frame 10 Years
Parts 3 Years
Caps and Covers 1 Year
Labor 1 Year