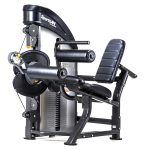 SELECTORIZED LEG EXTENSION / LEG CURL MACHINE – SPORTSART (DF200)
SELECTORIZED LEG EXTENSION / LEG CURL MACHINE – SPORTSART (DF200)
$3,695.00
$3,695.00
Our unique dual function push-pull design is your ideal product for your space. You get two motions in one beautifully designed machine. This product strengthens your quadriceps.
Description
Specifications:
Spring-lock knobs make cushion adjustment a snap
Specially contoured cams provide unparalleled ergonomics throughout the entire motion meaning a perfect start, perfect finish, and smooth resistance that perfectly suits human biomechanics
DirectDrive eliminates slack, so you will never feel the resistance fall off at any point during the exercise
Dimensions: 52″ x 42″ x 67″
Weight stack: 220 lbs.
Weight: 477 lbs.
Commercial Warranty:
Frame (Coating excluded) – 10 Years
Weights & guide rods – 5 Years
Cables, belts, bearings & parts – 3 Years
Grips, enclosures & covers – 1 Year
Upholstery – 6 Months
Labor – 1 Year
Notice: All SportsArt strength pieces will arrive fully welded and in one piece with weight stacks fully assembled (if applicable). It is the customers responsibility to make sure the delivered dimensions of each piece will allow it to be moved to the preferred location in your home or business. Please consult with a salesman if you have doubt before placing the order!
NOTE: Not available in all markets.  Not available to medical destinations.  Please call or email before placing order.