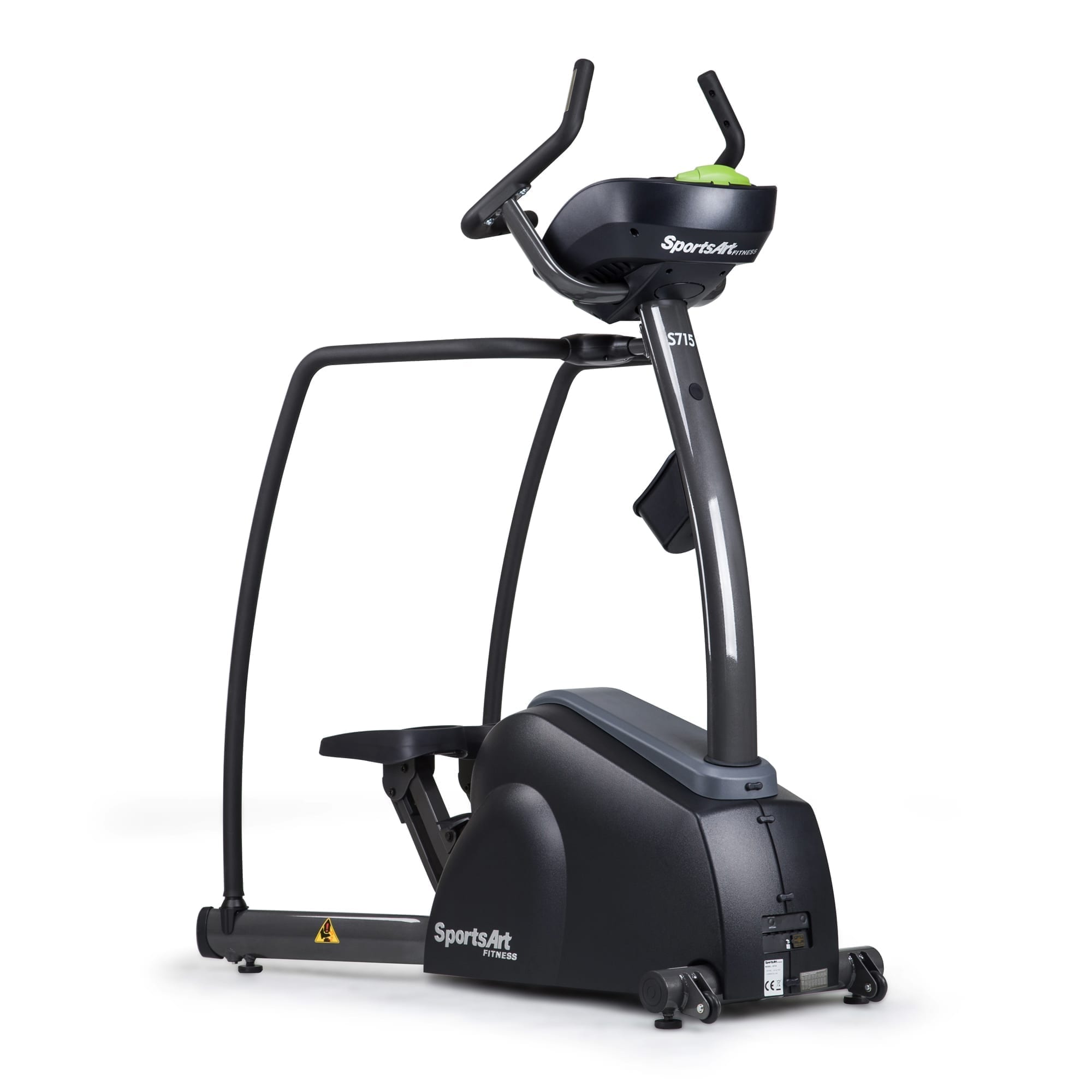 S715 STATUS SERIES COMMERCIAL STEP TRAINER – SPORTSART (S715)
S715 STATUS SERIES COMMERCIAL STEP TRAINER – SPORTSART (S715)
$4,695.00
$4,695.00
SportsArt Status series steppers are self-generating; no-outside power source required. The contact heart rate is standard and a wireless Polar® HR receiver is built in.
Description
SportsArt Commercial Step Trainer | S715 Status Series – The S715 Exercise Stepper by SportsArt is built for all day low impact aerobic exercise in dues paying facilities including commercial clubs. Since it is self-generating, there are no outside power requirements for the S715 so it can be set up and used almost anywhere. Users can take advantage of the ergonomically positioned handles that include contact heart rate monitors up high and down low. Horizontal and vertical handrails accommodate a variety of hand positions and provide stability to the user while exercising or when entering or exiting the machine. 40-levels of resistance are integrated with a wide variety of stepper exercises including Vari-Stride and the YMCA test. And for a whisper quiet exercise experience, SportsArt includes an automotive grade Poly-V belt that is exceptionally smooth and requires less maintenance than most other stepper drive systems.
What are the benefits of exercising with a step trainer? Why train on an aerobic stepper or step machine? For many, finding a way to exercise the cardiovascular system with little to no impact is important. A step trainer, much like an exercise bike, keeps the users feet planted firmly on the pedals at all times and provides a smooth, fluid motion that does not produce any impact or jarring of the body. This motion is a lot like climbing a steep hill or flight of stairs without the impact. Exercising with a step trainer will increase the aerobic capacity of the user which helps prevent getting out of breath when the heart rate increases during sport, exercise or even day to day activities. If losing fat is your goal, a step trainer will help you shed fat as you increase your aerobic capacity. In fact, data published by the Harvard Medical School states that a 155 lb. person will burn approximately 233 calories during 30-minutes of training. Want to tone up those thighs and glute muscles? Unlike an elliptical trainer, there is much less inertia generated requiring a much greater amount of force to be used from the legs to move the pedals up and down. The greater the force the more toning there will be.
SportsArt S715 Stepper Machine Specs and Features:
Dimensions: 54 L x 30 W x 70 H
Programs: Manual, Random, Interval (1-1, 1-2, 2-2), Plateau, Vari-Stride (20, 30, 40), YMCA Test, HRC (WT Loss, Cardio, Custom HR)
TouchN Go Programs: Quick Start, Manual, Interval, Plateau, Random, Fat Burn, Fit Test, Custom HR, WT Loss Cardio
Data Readouts: Heartrate, Cardio Zone, Weight Loss Zone, Active Zone, Calories, Level, Time, Distance, Steps/Min, METS, Total Steps, Human Watts
ActivZone: Yes
CSAFE: Yes
Cardio Advisor: Yes
Telemetry Heart Rate: Yes
Contact Heart Rate: Yes, high and low
Resistance Type: Electro-Magnetic
Resistance Control: Electronic
Power Requirement: Self-Generating
Drive Belt: Silent automotive grade Poly-V
Micro Inverter: No
Display: DOT Matrix Multi-Segment LED
Handrails: Horizontal and vertical for a variety of hand positions
Stride Length: 14 step range
Speed Range: 25-160 steps per minute
Pedals: Self-leveling non-skid foot plates
Pedal Size: 15 x 6.75
Resistance Levels: 40
Integrated Fan: Yes
Water Bottle Holder: Yes
Entertainment Mounting Bracket (EMB): Optional
Headphone Jack: Yes x 2
Integrated Audio Control: Yes
USB: Yes
30-Pin iPod Connector: Optional
Maximum User Weight: 500 lbs.
Suggested Use: All day commercial use No limits
Finish: Double Coat Paint
Unit Weight: 208 lbs.
Shipping Dimensions: 58 x 33 x 31
Ship Weight: 253 lbs.
LED Cardio Display:
SportsArt LED cardio displays are designed to offer simplicity and convenience in one design. Unique AvtivZone and Cardio Advisor displays offer optimum heart rate control while workout quick keys and 3 goal based workouts allow intuitive access to your favorite ways to stay fit. LED Cardio Display is included on the E845S and is shown on large elliptical image.
Easy to read Tri-Color LED display
Feedback window offers a quick look at Calories, Distance, Time, Pace, Mets and more
Cardio Advisor shows heart rate and optimal zones for weight loss and cardio
10 Integrated Quick Start keys to find workouts faster.
Commercial Warranty:
Frame Warranty Lifetime
Parts Warranty – 5 Years
Wear Items Warranty – 2 Years
Labor Warranty – 3 Year
High Wearable Items Warranty – 90 Days, no labor
SportsArt Fitness is a fully integrated world-class manufacturer that produces to the highest standard of ISO with TUV Certification 9001-9002.
NOTE: Not available in all markets.  Not available to medical destinations.  Please call or email before placing order.