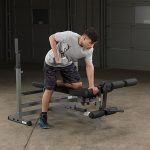 Power Center Combo Bench
Power Center Combo Bench
$600.00
$600.00
Get a total-body workout on the most versatile and complete combo bench available. The PowerCenter Combo Bench (#GDIB46L) is a Flat Bench, Incline Bench, Decline Bench, 90° Shoulder Press Bench, and Seated Leg Developer all in one. You can see the dynamics of this bench as soon as you glance at the multi-position, telescoping uprights that safely hold the bar for bench exercises. The 6-position Flat / Incline / Decline / Bench features pop-pin adjustable DuraFirm"! seat and back pads that are extra-thick, ultra-comfortable, and will never bottom out.
Optional stations include a Preacher Curl Station (#GPCA1) for optimum Biceps development and the Lat Pulldown / Low Pulley Station (#GLRA81) for accelerated back and deltoid development.
Description
Additional information
Reviews (0)
Warranty Agreement
Description
The rock-solid strength and stability of the PowerCenter Combo Bench come from the extra-heavy 12-gauge all-4-side welded high tensile strength steel mainframe. Strengthen, tone, and develop your knee, thigh, hamstring, and glute muscles with the six-roller Leg Extension / Leg Curl Station included with the PowerCenter Combo Bench. Thick, oversized foam rollers provide complete comfort through heavy lower body routines.
Features:
Includes Leg Developer
6-Position Flat / Incline / Decline
Back Pad Adjustments: 0°, 30°, 50°, 60°, 70°, 80°
Seat Pad Adjustments: 0°, 10°, 20°, 30°
DuraFirm™ back and seat pads
Adjustable Uprights
77″L x 46″W x 43″H
This Limited Express Warranty applies only in the United States to products manufactured or distributed by Body-Solid, Inc. ("Body-Solid") under the BODY-SOLID brand name (hereinafter referred to as "Product").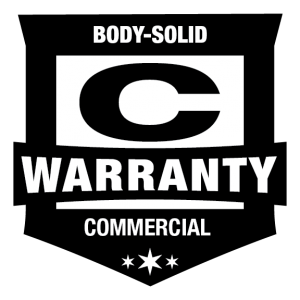 LIGHT COMMERCIAL USE: Body-Solid Light Commercial Warranty applies to facilities that DO NOT charge monthly membership dues and where the equipment would not be used by more than 50 people a day. Light Commercial facilities include hotels, apartments, condominiums, personal training studios, police and fire stations, and all other Light Commercial facilities that meet the limitations listed above.
What Is Covered? During the warranty period, Body-Solid will, at its sole discretion, at no additional charge, provide the exclusive remedy of repair or replacement of the Product if it becomes materially defective, malfunctions, or otherwise fails to conform with this limited warranty under normal light commercial, personal, family, or household use. In repairing the Product, Body-Solid may replace defective parts with new or, at Body-Solid's sole discretion, serviceable used parts that are equivalent to new parts in performance. All exchanged parts and Products replaced under this limited warranty will become the property of Body-Solid. Body-Solid reserves the right to change manufacturers of any part to cover any existing warranty.
How Long Coverage Lasts? Body-Solid warrants that the Product you have purchased for light commercial or non-commercial, personal, family, or household use from Body-Solid or from an authorized BODY-SOLID dealer will be free from any material defects in materials or workmanship under normal use during the warranty period from the date of purchase. Your sales receipt, showing the date of purchase of the Product, shall constitute proof of the date of purchase.
Important Additional Terms and Restrictions. This warranty extends only to the original purchaser. It is not transferable to anyone who subsequently purchases the Product. It excludes expendable parts such as paint and finishes. It does not cover labor costs. While necessary maintenance or repairs of the Product can be performed by any company, or by the owner we recommend that you use only Body-Solid or an authorized BODY-SOLID dealer for best results. Improper or incorrectly performed maintenance or repair voids this warranty. Body-Solid neither assumes nor authorizes any third party to assume for it any other warranty.
This warranty is void under the following conditions: if the Product is not assembled/installed according to the instructions/directions included with the Product; if proof-of-purchase documentation or Product serial number is altered or forged; if the Product was not purchased from Body-Solid or from an authorized BODY SOLID dealer. This warranty does not extend to any Product that has been damaged or rendered defective: (a) as a result of the accident, misuse, or abuse; (b) by the use of parts not manufactured or sold by Body-Solid; (c) by modification of the Product; (d) as a result of improper or incorrectly performed service or repair by anyone other than Body-Solid or an authorized BODY-SOLID dealer or an authorized BODY-SOLID warranty service provider; (e) as a result of failure to provide reasonable and necessary care as outlined in the owner's manual for the Product. Should any Product submitted for warranty service or replacement be found to be ineligible, an estimate of repair cost will be furnished and the repair will be made if requested by you upon Body-Solid's receipt of payment or acceptable arrangement of payment.
How to Redeem this Warranty. To redeem this warranty, you must contact Body-Solid at 1-800- 556-3113 or service@bodysolid.com. Body-Solid may elect to send a new part to remedy the defect. However, in some cases, Body-Solid may need to directly repair or entirely replace the equipment in which case you will be given a Return Authorization Number by Body-Solid customer service. You then must return the Product, together with the Return Authorization Number and the sales receipt, in its original container (or equivalent) to the following address: Body-Solid, Inc., Attn: BODY-SOLID Warranty Dept., 1900 S. Des Plaines Ave., Forest Park, IL 60130. You must pre-pay any shipping charges, export taxes, customs duties and taxes, insurance, and any other charges associated with the transportation of the Product. Body-Solid will not accept any Product returned on a freight collect basis or outside of Body-Solid's normal business hours. You are responsible for insuring any Product shipped or returned. You assume the risk of loss during shipment or return.
How State Law Applies. This warranty gives you specific legal rights, and you may also have other rights which vary from state to state.
THIS IS THE ONLY WARRANTY APPLICABLE TO BODY-SOLID BRANDED PRODUCTS. TO THE EXTENT PERMITTED BY LAW, BODY-SOLID DISCLAIMS ALL OTHER EXPRESS WARRANTIES AND ANY IMPLIED WARRANTIES OF MERCHANTABILITY AND FITNESS FOR A PARTICULAR PURPOSE BEYOND THE ONE (1) YEAR WARRANTY PERIOD.
SOME STATES DO NOT ALLOW LIMITATIONS ON HOW LONG AN IMPLIED WARRANTY LASTS, SO THE ABOVE LIMITATION MAY NOT APPLY TO YOU.
NEITHER BODY-SOLID NOR ANY OF ITS AFFILIATES SHALL BE RESPONSIBLE FOR INCIDENTAL OR CONSEQUENTIAL DAMAGES, INCLUDING BUT NOT LIMITED TO LOST PROFITS, LOSS OF USE, OR ANY OTHER ECONOMIC DAMAGES ARISING IN TORT OR CONTRACT, INCLUDING ANY IMPLIED WARRANTY CLAIMS. BODY-SOLID'S AND ITS AFFILIATES' ENTIRE LIABILITY IN THE AGGREGATE SHALL NOT EXCEED THE PURCHASE PRICE OF THE PRODUCT.
SOME STATES DO NOT ALLOW THE EXCLUSION OR LIMITATION OF INCIDENTAL OR CONSEQUENTIAL DAMAGES, SO THE ABOVE LIMITATION OR EXCLUSION MAY NOT APPLY TO YOU.
Warranty is not applicable outside the United States – Before returning a product you must call BODY-SOLID at  1.800.833.1227 to obtain a Return Authorization Number. No returns will be accepted without the Return Authorization Number. The original purchaser must pre-pay all freight charges on warranty claims. BODY-SOLID will not accept Freight Collect shipments or return shipments on a freight collect basis.