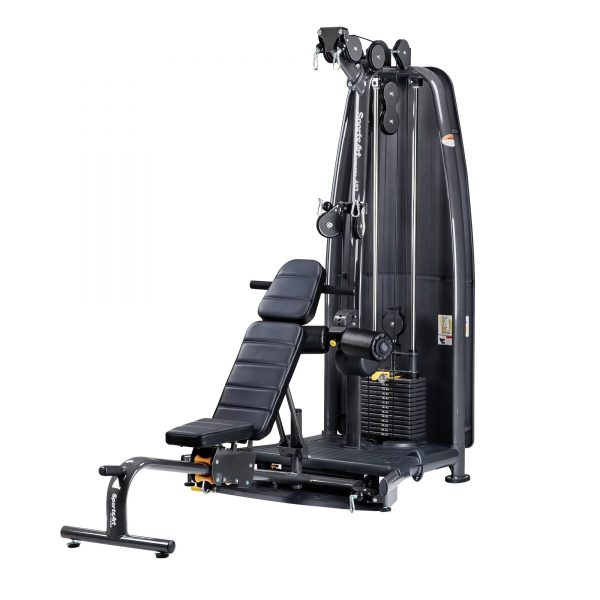 PERFORMANCE SERIES SINGLE STACK FUNCTIONAL TRAINER GYM WITH MULTI-ANGLE BENCH – SPORTSART (A93)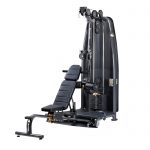 PERFORMANCE SERIES SINGLE STACK FUNCTIONAL TRAINER GYM WITH MULTI-ANGLE BENCH – SPORTSART (A93)
$3,095.00
$3,095.00
Single stack efficiency and 1:4 pulley ratio make the A93 Functional Trainer an extremely versatile rehab and conditioning tool for multiple patient types.
Description
SportsArt A93 Functional Trainer with Bench The Performance Series A93 Functional Trainer from SportsArt is a workout tower with a single column selectorized weight stack and three sets of cable pulleys in high, mid, and low positions for performing a variety of strength training exercises and sport specific functional training movements. The SportsArt A93 Functional Trainer offers nearly unlimited options for total-body training, allowing users to quickly and easily switch between upper body exercises, lower body exercises, and exercises for core and midsection. The A93 features SportsArts own Total Motion Technology since all 3 sets of pulleys are rotational, they deliver a wider variety of exercises and more effective training angles than other functional trainers. The multi-angle bench quickly and easily adjusts from flat position, to multiple incline positions, to shoulder press position for traditional muscle building exercises such as bench press, shoulder press, bicep curls, and back rows. Easily roll the bench away from the tower to perform standing exercises utilizing three pulley height positions. The variety of cable accessory handles and high range of rotational pulley movement allow sports training towards improved game performance for golf, tennis, baseball, and other recreational sports. All components are commercial grade and come directly from SportsArt's world-class health club strength products to make the A93 Functional Trainer perfect for any home gym, hotel workout center, personal training studio, or corporate wellness facility.
Purchase SportsArt Commercial Functional Trainers on GSA contract – All SportsArt Fitness commercial strength and cardio equipment can be purchased from Ironcompany on GSA Contract GS-07F-0104M and CMAS Contract 4-12-78-0066A.
Includes:
(1) Functional Trainer Tower with Selectorized Stack
(1) Multi-Angle Utility Bench
(1) Cable Accessory Handle Attachment Set
Features:
Single stack efficiency allows the versatility of a functional trainer to reside in a small space
Three sets of rotating pulleys deliver maximum training options
All 5-inch pulleys are deep-grooved and shrouded to keep cables tracking properly
Weight stack delivers smooth, silent operation
Wide variety of accessory handles, leg strap, and carabiners come standard
Total Motion Technology provides three sets of rotational pulleys for a wide variety of exercises
All components are commercial grade
Frame Color: Charcoal Gray
Bench Upholstery Color: Black
Welded steel frame
High-strength oval tubing
Dual powder-coated paint resists scratches and scuffs
Rip-resistant marine quality vinyl upholstery with industrial strength cushioning for comfort and durability
Pivot points called out with orange dots for correct/optimal alignment
154 lb. weight stack
1:4 pulley resistance ratio requires less effort to begin a motion
Cold rolled steel weight plates resist rust and convey quality
Precision sound dampeners keep stack action quiet while in use
Flat "fork-style" weight stack selector supports weight plates rather than balancing on a thin, single selector pin
Magnetized selector fork instantly locks into place for quick, secure action
Retracting cord keeps selector fork from disappearing while eliminating clutter
Internally-lubricated 2,000 lb. steel aircraft cables
Ball bearings and coated, internally lubricated cables provide smooth, quiet movement
Stainless steel guide rods resist rust, chipping, and pitting and provide smooth travel
Pivoting adjustable leg hold down pads for lat pulldowns while seated on bench
Docking station on tower for secure placement of bench
Bench has handle on front for easy lift and transport wheels for movement in and out of tower docking station
Multi-position bench quickly and easily adjusts from flat position to multiple incline positions to shoulder press position
Includes comprehensive instructional DVD
Included Accessory Attachments:
(1) Long bar with dual swivel ends
(1) Short bar with center swivel
(1) Sports grip training bar with end attachment
(2) Adjustable length single-grip handles
(1) Tricep rope
(1) Adjustable ankle strap with hook and loop closure
Specifications:
Tower Dimensions (not including bench): 53 L x 45 W x 83 H
Bench Dimensions: 62 L x 22 W x 19 H (flat) / 42 (fully inclined)
Weight: 368 lbs.
Commercial Warranty:
Frame (Coating excluded) – 10 Years
Weights & guide rods – 5 Years
Cables, belts, bearings & parts – 3 Years
Grips, enclosures & covers – 1 Year
Upholstery – 6 Months
Labor – 1 Year
Notice: All SportsArt strength pieces will arrive fully welded and in one piece with weight stacks fully assembled (if applicable). It is the customers responsibility to make sure the delivered dimensions of each piece will allow it to be moved to the preferred location in your home or business. Please consult with a salesman if you have doubt before placing the order!
NOTE: Not available in all markets.  Not available to medical destinations.  Please call or email before placing order.