Inspire BL1 Body Lift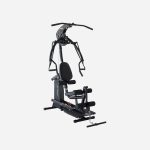 Inspire BL1 Body Lift
$1,499.00
$1,499.00
Description
The Inspire BL1 Body Lift Home Gym – One of the Most Innovative Home Gyms on the Market! 
The BL1 gym uses your own body weight as resistance and is adjustable from 10% to 150% of your total body weight.  Body weight resistance training has a large impact on your metabolism and causes your body to comtinue to burn calories hours after your workout is complete.
The BL1 gym offers a user friendly system, making it easy for you to adjust the resistance level by using a one-handed slide.  In a ddition, the seat and back rest are completely adjustable, enabling you to customize the gym to your body size.  This results in a more personalized and effective workout.
Key Properties:
Frame: Heavy-duty 2"x4" oval 11 gauge tubular steel.
Powder Coated Finish: The Electrostatic Powder Coat offers a durable, maintenance free finish.
User-friendly Adjustment: Easily select resistance level with one-handed adjustment slide.
Accessories: 18" revolving curl bar and 48" steel lat bar.
Pulleys: Fiberglass reinforced nylon.
Cables: 2000lb. tensile strength polyurethane coated cable.
Warranty (Residential use only) Limited Lifetime Warranty.
Dimensions:  Depth 55″ x Width 43″ x Max Height 89″
Included Products
When you order this product, you get all the following products for free!!