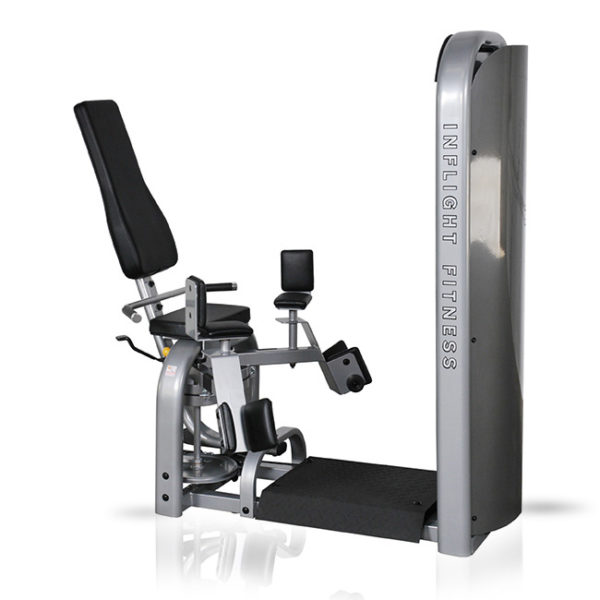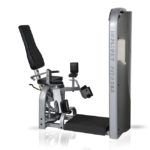 Inflight Fitness Multi Inner and Outer Thigh Machine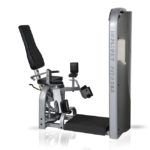 Inflight Fitness Multi Inner and Outer Thigh Machine
$2,999.00
$2,999.00
Standard
Padded thigh and ankle support.
Easy access weight stack.
Optional
Steel shrouds powder coated and clear coated for a mar-resistant lustrous finish.
Standard 150lb. weight stack is upgradeable to 225lbs.
Description
Additional information
Reviews (0)
Description
The Inflight Fitness Multi Inner and Outer Thigh Machine makes it possible to work the part of the lower body most often neglected. Furthermore, in average everyday life it's hard to work these and what people end up with is flab on the inside and no definition on the outside, to the left or right of the major thigh muscles.
Not everyone likes to do squats. Not everyone has the balance and coordination to do tons of dumbbell lunges. This machine makes it possible to comfortably sit and go from inside to outside continuously. Typically, regardless of how fit someone is, this multi inner and outer thigh machine is going to target the muscle groups with precision and really give them a great workout.
Inner and Out Thigh Machine Features & Specifications
Perfect for big and small gyms alike, Inflight Fitness Multi Inner and Outer Thigh Machine is not only compact and stylish but smooth and silent as well. No annoying mechanical sounds and the movement is fluid. It's been ergonomically designed for correct sitting posture and the legs work in an ideal range of motion. Another feature is the stability and solid construction. This thing will last forever.
Because Inflight Fitness used to be a renowned aircraft parts manufacturer, everything from the weights and cables to the pulley system and seating is made with the finest components and durable craftsmanship.
We're talking world class gym equipment for an affordable price from a powerhouse reputable company.
The cables can withstand up to 4200lbs of pressure which is far more than anyone out there is going to be dealing with too often.
The weight stack and pins are within reach and the entire set-up is really comfortable. You could be having a conversation and getting an inner and outer thigh workout like never before in your life!
Additional Benefits of Inflight Fitness Equipment
The technical specifications for this seemingly simple machine would astound you. For example, the finish on the heavy-duty frame has a special powder coating that makes it incredibly resistant to chips, dings and fading. Engineers electrostatically apply a TGIC polyester powder, which is amazing.
The padding and upholstery are all cutting edge. Bearings, cables, pulleys and a frame that can take a beating for decades. In fact, Inflight Fitness guarantees and frame and you get a lifetime warranty on it. How's that for secure fitness equipment? Upholstery is covered for 90 days as well, so be sure to grab the Inflight Fitness Multi Inner and Outer Thigh Machine to complete your leg workouts!
Parts are covered for the first year which for both commercial and home-gym owners is more than enough to bring any minor manufacturing problems to the surface. Should any be found, Inflight Fitness will take care of it. That's amazing!
Inflight Fitness Multi Inner and Outer Thigh Machine FEATURES:
Frame Materials:
All Inflight Fitness exercise equipment is constructed of heavy-duty 11 and 12ga structural tubing with an ASTM rating of A500 grade (minimum mechanical properties of 58,000 PSI ultimate tensile strength and 46,000 PSI yield strength). All flanges are a minimum of ¼" thick. All steel components are machined to a minimum tolerance of +/- .030″.
Construction:
All MIG (metal inert gas) welding is in accordance with the following codes and/or standards: 3:1 AWS, A3.0 Welding Terms and Definitions 3.2 AWS Dl.1-81 Structural Welding Code-Steel 3.2 AWS D9.1 Specifications. All TIG (tungsten inert gas) welding is in accordance with Mil-Std-2219.
Frame Finish:
Each piece of equipment is prepared for powder coating with a high-temperature, high-pressure iron phosphate wash to ensure optimum adhesion of the electrostatically applied TGIC polyester powder. The coating is then baked at 375 degrees F and carefully monitored to ensure complete curing. This coating is scuff resistant and long wearing. Technical summaries are determined using 3.0 -5.0 mil powder film over iron-phosphated, pretreated steel using and conforming with the following test methods: ASTM B5965-96, C ASTM D 3451-93, 13 ULDTOV2 organic coatings.
Padding and Upholstery:
All of our selectorized weight equipment is fitted with black vinyl covered HR molded cushions. The molded cushions have a density of 100 and a durometer of 40-45. The back cushions incorporate lumbar support and the bottom cushions are contoured to provide comfort and proper positioning. This material is long lasting and easy to clean.
However, if you need a custom color, custom pads are available. We use a padding material of 2″ thick crosslinked polyolefin foam, which has extremely low water absorption, excellent weathering properties, and superior physical properties to neoprene or polyurethane type foams. We cover the pad with your choice of "Naugahyde" or "Boltaflex" vinyl.
All pads are top and blind-stitched. Foam is glued to a 3/4″ thick support board, radiused and chamfered for durability.
Bearings:
All pivots rotate on either ABEC-1 precision ball bearings (Load Rating for 1″=2529 pounds), contained in a cast or machined housing or a self-lubricating Oilite bronze bushing in a machined steel housing to provide smooth, quiet movement and precise alignment.
Cables:
1/4″ diameter, 7 x 19 strand, mil-spec aircraft cable with a black nylon coating. All fittings are stainless steel and swaged to the cable. The cable assembly is rated at a minimum breaking strength of 4200 lbs.
Pulleys:
Pulleys are 4 1/2″ diameter fiberglass-impregnated nylon with a precision fit cable groove and 6203 double sealed roller bearings.
Weight Plates and Dampening:
All Inflight Fitness selectorized equipment feature solid cast steel weight stack plates with a black finish. Self-aligning low friction sleeve bearings surround the guide rods on every weight stack plate. Weight plates are warranted against breakage for the lifetime of the machine. Heavy-duty rubber spacers are used under the weight stack to absorb shock and reduce noise.
Guide Rods: 
To ensure quiet operation and low friction movement, all machines are fitted with 1″ diameter floating chrome plated guide rods with rubber cushion plugs on each end.
Lanyard attached pins:
All Inflight Fitness selectorized equipment feature weight stack pins that are attached with a coiled self-storing cord to prevent pin removal or loss.
Fasteners:
All bolts meet ANSI B18.3 specifications. One-time use aircraft style center-locking nuts are used to ensure attach points remain secure.
Handgrips:
Our handgrips are manufactured from nonabsorbent UV resistant closed cell PVC vinyl foam for comfort, safety and durability.
Specifications
Shoulder, Incline, Chest and Decline Presses
Pivoting Back Pad supports each exercise
Height adjustable seat
Frame Color: White
Upholstery Color: Black
Custom upholstery optional
Platinum or Black frame color optional – Longer lead time of 3 weeks
Dimensions: 41.75″W x 67.75″L x 81.25″H
Weight stack 200 lbs.
Bearings: ABEC1 precision ball bearings in a cast or machined steel housing.
Cables: 3/16″ diameter coated to 1/4″, 7×19 strand, LOOS USA mil-spec cable.
Cushions: Black vinyl sewn over contoured cushions molded of 100 density, 40-45 durometer HR foam. Custom colors available.
Frame: 12 gauge minimum structural steel tubes, 1/4″ minimum thick flanges coated with electrostatically applied powder.
Grips: Non-absorbent, UV resistant, closed-cell vinyl foam.
Guide Rods: 1″ floating guide rods with rubber cushion on each end.
Pulleys: 4 1/2″ fiberglass impregnated nylon with double sealed roller bearings.
Shrouds (Optional): .040 thick steel, black powder- coated texture.
Weight Plates: Cast steel weight plates are lifetime warranted against breakage. Self-aligning plastic bushings and heavy-duty rubber spacers below the weight stack reduce noise.