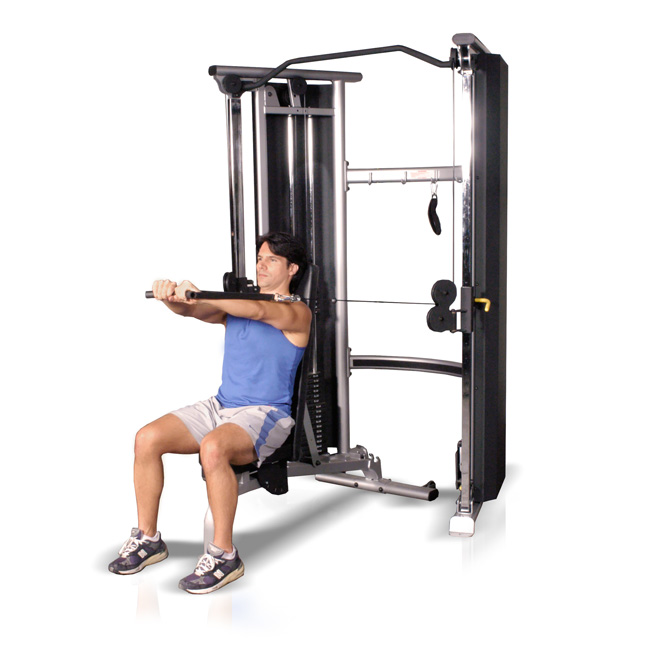 INFLIGHT FITNESS FT1000 FUNCTIONAL TRAINER
INFLIGHT FITNESS FT1000 FUNCTIONAL TRAINER
$3,499.00
$3,499.00
Standard
Two 150 lb. weight stacks, ten 10 lb. plates, and ten 5lb. plates per stack.
2:1 Cable pull.
Integral step to help reach the chin-up bar.
24 Exercise heights to accommodate a wide range of users and exercises.
88" Overall height.
Two nylon strap handles standard.
Optional
Steel shrouds powder coated and clear coated for a mar resistant and lustrous finish.
Weight stacks can be upgraded in 50 lb. increments up to 300 lbs. each.
4:1 Cable pull to provide over 13 feet of travel and lower weight momentum.
Five piece accessory kit with aluminum revolving long bar, ankle strap, triceps rope, short revolving straight bar, and functional exercise handle.
FID Bench available.
NEW  Storage solution – two medicine ball shelves and two kettlebell shelves.
NEW  Medicine Ball Kit (6-16lb).
NEW  Kettlebell Sets (5-40 singles or pairs).
Description
Additional information
Reviews (0)
Description
All Accessories are Included with package
Placards mounted on shrouds show different exercises
Medicine Ball Set(6lb,8lb,10lb,12lb,14lb,16lb)
Competition Rubber Kettlebell Set -PAIRS (5lb-40lb)
Package includes FT1000S, FT1000AK, FT1000-KIT, MB66, KB360
InFlight Fitness Quality Features:
Add an InFlight Fitness Adjustable Bench:
 Warranty
Commercial: Lifetime limited warranty on frame, welds, and weights; 3 years on bearings, guide rods, cams, and pulleys; 1 year on cables. See warranty for details.
The Inflight Fitness FT1000 Functional Trainer is one of the most versatile commercial functional trainer machines available, plus, one of the most space-efficient.
The Inflight FT1000 Functional Trainer offers tons of traditional and functional training exercises. Plus, if you need a great commercial weight machine for your physical therapy clinic or sports rehabilitation clinic, the Inflight FT1000 offers a 4:1 resistance ratio option.
The 4:1 resistance ratio is deal for the lowest starting weight possible, decreases the weight increments and allows for faster movement through the range of motion for extreme functional training exercises. A 4:1 ratio simply means if you load up 20 lbs on the weight stack, the end resistance the user feels is only 5 lbs.
This Inflight Fitness commercial functional trainer is ideal for heavy home use, high school, college, physical therapy, fire and police station gyms!
Features:
• (2) 150 lb Weight Stacks
• Standard 2:1 cable pull to weight ratio
• Pull Up Bar
• Adjustable Hi/Low Pulleys
• Pulleys offer 24 height adjustments
• Integrated Step to reach pull up bar
Optional:
• Steel shrouds powder coated and clear coated finish…..($350)
• Weight stack is upgradeable in 50lb. increments to 300 lbs. max…..($150 per 50lbs)
• Optional 4:1 cable pull to weight ratio ($295)
Spec's:
• 2- 150 lbs. steel weight stack.
• Dimensions: 62″W x 38″L x 88″H
• Frame, Weights: Lifetime
• Parts: 1 Year
• Upholstery, Pads: 90 Days