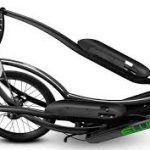 ELLIPTIGO® 3C
$2,199.00
The ElliptiGO 3C delivers a great cardio workout without the impact of running or being stuck indoors. With its three gears, our entry-level long-stride model is ideal for flat terrain or gently rolling hills. You can enjoy a comfortable cruising experience or push the pace – the 3C is capable of hitting speeds up to 25 mph. Its adjustable stride length and handlebar height enable you to get into the perfect position to experience a natural, running-like feeling. Get outside and have fun exercising on the ElliptiGO 3C!
Description
ELLIPTIGO® 3C
The ELLIPTIGO® 3C is our entry-level long-stride model. With three gears to choose from, the ELLIPTIGO® 3C is perfect for anyone who wants to get a great cardio workout on flat terrain or gently rolling hills. You can enjoy a comfortable cruising experience or push the pace to reach speeds up to 25mph. Like all of our long-stride bikes, the 3C's adjustable stride length and handlebar height enable you to find the perfect position for a comfortable ride. Get outside and have fun exercising on the ELLIPTIGO® 3C!
WHAT ARE THE BENEFITS OF ELLIPTICAL CYCLING?
LOW-IMPACT – A smooth, elliptical motion provides a great workout that's gentle on your knees, hips, ankles and back.
FUN TO RIDE – The speed, handling and motion feels like "running on air," giving you a carefree exercise experience at any age.
COMFORTABLE – The natural "stand up" riding position reduces stress on your neck and back while completely eliminating seat pain.
HEART HEALTHY – Burns 33% more calories than a traditional bicycle, providing a better workout in less time.
OUTSIDE – Meant to ride outdoors on the same paths that you walk, jog, run or bike, but compatible with indoor stationary trainers (3C/8C/11R only), so you can train year round.
INCREASED VISIBILITY – A higher riding position makes it easier for you to see and be seen.
ONE-SIZE FITS ALL – The steering height and pedaling motion are adjustable so riders from 4'10" to 6'10" can find their optimal fit for a comfortable ride.
GREAT FULL-BODY WORKOUT – The stand-up position of elliptical bikes engages your core and upper body in addition to your legs.
WEIGHT-BEARING EXERCISE – Gets your heart rate up, burns calories and helps to improve bone density.
PORTABLE – Can fit inside most vehicles and on a variety of roof, trunk and hitch racks.
BUILT TO MATCH YOUR STRIDE
LONG STRIDE LENGTH
With a maximum length of 25 inches, you get a full range of motion and balanced muscle activation, making it possible to comfortably tackle any ride.
16"-25" ADJUSTABLE STRIDE
Four adjustable stride-length settings allow you to adjust the bike to your desired range of motion for the optimal riding experience.
LONG FOOT PLATFORM
An elongated foot platform allows you to adjust foot placement, targeting different muscle groups and letting you fine-tune your position on the fly for comfort and performance.
PUTTING YOU IN CONTROL
TELESCOPIC STEERING COLUMN
A simple quick-release lever makes it fast and easy to adjust the height for any rider or to transport the 8C in a vehicle.
ERGONOMIC BAR-ENDS
Adjustable bar-end extensions offer greater versatility in adjusting your riding position on the fly for climbing hills, sprinting flats or cruising descents.
CUSTOMIZABLE SETUP
Compatibility with a variety of traditional bike and ElliptiGO-specific accessories allows you to deck out your bike with the gear you need to tackle any situation on any ride.
ADJUSTS TO YOUR ENVIRONMENT
3-SPEED INTERNAL HUB
The 3 internal gears reduce maintenance and provide a large range of resistance, allowing you to conquer the steepest of hills and sprint at speeds of 25mph .
INDOOR/OUTDOOR
Compatibility with many stationary trainers lets you train year-round, either outside on the road or inside when the weather is bad.
SYSTEM SPECIFICATIONS
Wheelbase

54″ (137cm)

Total Length

75″ (190.5 cm)

Weight

42 lbs (19.1 kg)

Operating Height

50-58″ (127-147 cm)

Storing Height (with front wheel)

32″ (81 cm) with steering extender

Storing Height (no front wheel)

27″ (70 cm) with steering extender

Crank Length

6.75 – 10.5″ (171 – 267mm)

Storing Height (w/ front wheel)
Gears/Speeds

3

Total Gear Range

177%

Avg Gear Step

33%

Gear Ratio Range

.75 – 1.33

Gear Inch Range

58-103

Gain Ratio Range

2.8 – 7.6

Stride Length

16 – 25″ (41-64 cm)

Stride Height

2.5-5.8″
COMPONENTS
Front and Rear Brakes

Linear pull rim brakes

Grips

Velo ergonomic grips

Cranks

Custom forged aluminum with VSL

Frame

7005-T6 Aluminum

Fork

20″ butted chro-moly with 1.5″ steerer

Brake Levers

Avid FR5, two finger levers

Propulsion System

Patented Elliptidrive technology

Drive Arms

Aluminum with composite nylon foot

Track System

Integral with modular inserts

Chainring

52- tooth, 130 BCD, 6061-T6 aluminum

Cassette

None

Bottom Bracket

Isis drive, sealed bearings

Sprocket

13-tooth

Hub

Sturmey Archer 3-speed hub

Steering Column

Adjustable height index locking

Steering Extender

Chro-moly steel, anti-rotation indexing

Headset

1.5′ threadless

Kickstand

Dual leg, forged aluminum kickstand

Tires

Kenda Kwest, 20″ x 1.5″ 60TPI, 100-psi

Handlebar

Alu. MTB riser bar, 50mm x 670mm

Stem

Forged aluminum, 120mm x 7 deg.

Shifter

Sturmey Archer S30 trigger shifter

Front Wheel

20″ aluminum aero profile rim, 28-spoke

Rear Wheel

20″ aluminum aero profile rim, 32-spoke
PERFORMANCE
Climbing Activity

Climb mild hills of up to 5% grade

Recommended Riding Terrain

Flat terrain and mild hills

Cruising Speed (flat terrain)

15 mph (24 kph)

Sprinting Speed (flat terrain)

23 mph (37 kph)

Workout Resistance Selection

3 different levels of resistance. 177% total resistance range. 33% difference between levels
Included Products
When you order this product, you get all the following products for free!!