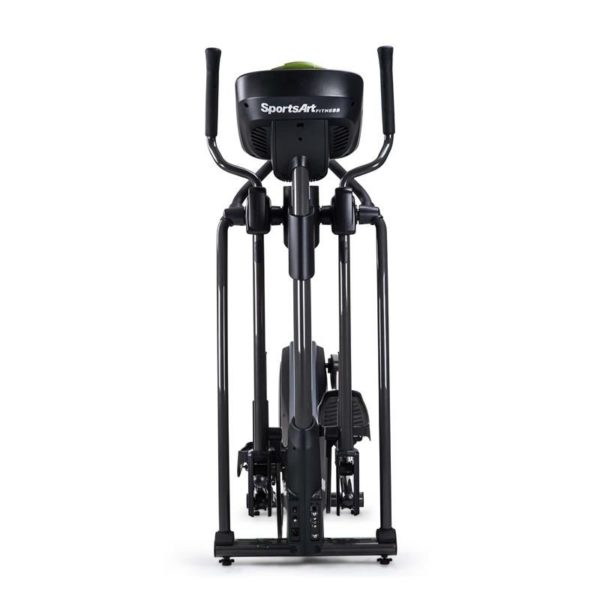 E845S PERFORMANCE SERIES COMMERCIAL ELLIPTICAL TRAINER – SPORTSART (E845S)
E845S PERFORMANCE SERIES COMMERCIAL ELLIPTICAL TRAINER – SPORTSART (E845S)
$5,895.00
$5,895.00
SportsArt ellipticals are the perfect option when seeking a total body, low-impact workout. Contact and wireless heart rate are standard with multiple language options. Self-powered – no outside power source required.
Description
SportsArt Commercial Elliptical Trainer | E845S Performance Series – The E845S Self-Generating Elliptical Trainer by SportsArt is designed to provide low impact, total body cardio workouts in fitness studios and gyms. The E845S is self-powered and non-reliant on outside energy giving facility owners more positioning options in their cardio areas. For facilities requiring bi-lingual program and data readouts, the E845S can be set to English, Spanish and French. Custom adjustability to accommodate different size users is another benefit to purchasing the E845S. Users can easily adjust pedal stride lengths with the push of a button between 17 and 29 or let the Vari-Stride" program continually increase and decrease the stride length for you to help target multiple muscle groups in one session and increase the caloric burn. Pedals are equipped with the exclusive MyFlex pedal cushioning system which helps to alleviate pressure on the feet making for a more comfortable and sustainable elliptical trainer workout. The E845S is also built on a hefty platform weighing in at 291 lbs. which enables it to withstand maximum user weights of up to 450 lbs.
SportsArt E845S Elliptical Trainer Specs and Features:
Assembled Dimensions: 80″ L x 31″ W x 68″ H
Programs: Manual, Random, Interval (1-1, 1-2, 2-2), Plateau, Vari-Stride (20, 30, 40), YMCA Test, HRC (WT Loss, Cardio, Custom HR)
Data Readouts: Heartrate, Cardio Zone, Weight Loss Zone, Active Zone, Calories, Workout Level, Time, Distance, Strides/Min, Stride Length, Total Strides, Human Watts
Activ Zone: Yes
Cardio Advisor: Yes
Telemetry Heart Rate: Yes
Contact Heart Rate: Yes
Resistance Type: Electro-Magnetic
Resistance Control: Electronic
Power Requirement: Self-Powered
Display: Multi Segment Membrane LED
Stride Length: 17″ – 29″
Pedal Size: 15″ L x 6.75″ W
Adjustable Stride: Electronic
Step Up Height: 12.75″
Distance Between Pedals: 3.5″
Stride/Resistance Fingertip Controls: Yes
Resistance Levels: 40
Pedal Cushion: MyFlex
3-Speed Fan: No
Water Bottle Holder: Yes
Optional EcoFit: Yes
Headphone Jack: Yes x 2 with built-in volume control
Integrated Audio Control: Yes
CSAFE: Yes / Port compatible with Netpulse
USB: Yes / For device charging
Bluetooth: Yes
30-Pin iPod Connector: Optional
Entertainment Mounting Bracket (EMB): Optional
Languages: English, Spanish, French
Maximum User Weight: 450 lbs.
Suggested Use: Light/Full Commercial
Finish: Double Coat Paint
Unit Weight: 291 lbs.
Shipping Configuration: 91″ L x 27″ W x 35″ H | 400 lbs. (Freight Shipping Class 100)
Standard LED Cardio Display (E845S):
SportsArt LED cardio displays are designed to offer simplicity and convenience in one design. Unique ActivZone and Cardio Advisor displays offer optimum heart rate control while workout quick keys and 3 goal based workouts allow intuitive access to your favorite ways to stay fit.
Easy to read Tri-Color LED display
Feedback window offers a quick look at Calories, Distance, Time, Pace, Mets and more
Cardio Advisor shows heart rate and optimal zones for weight loss and cardio
10 Integrated Quick Start keys to find workouts faster.
Optional SENZA Touchscreen LED Cardio Interface (E845S-16):
SportsArts SENZA touchscreen cardio interface is designed around the commitment to a Fitness First approach, allowing users to find the right workout faster and easier by delivering an intuitive streamlined interface with lifestyle targeted programs, dynamic entertainment options, and a virtual workout experience. Explore stunning virtual landscapes and experience some of the worlds most beautiful workout destinations right from your favorite SportsArt Equipment!
Elegant Workout Interface 16″ backlit LED capacitive touchscreen with anti-glare.
SENZA Journeys Where would you like to run today? From the Golden Gate Bridge to Arizonas Apache trail, youll have plenty of new places to explore with SENZA Journeys. The virtual run videos are equipped with dynamic speed optimization so the video speeds up and slows down to match your pace.
High Quality Display SENZA is built on the Android operating system with an industrial grade TFT dual-layer capacitive screen designed to withstand the daily abuse of a club environment.
Dynamic Entertainment Options SENZA offers multiple platforms of entertainment and user engagement. Its high-resolution screen delivers crystal clear television and internet with plenty of customization options to fit your facilitys needs. Built-in Wi-Fi and integrated Ethernet allow you to stream content and Bluetooth 4.0 can transfer data and music.
Customized Web Browsing Club owners and facility operators will enjoy customizing SENZA with various options like uploading company logos, adding an embedded home screen URL for internal marketing and member engagement, and easily-changing various default settings to make their facilitys experience unique.
Light/Full Commercial Warranty:
Frame Warranty Lifetime
Parts Warranty – 5 Years (3 Years Commercial)
Wear Items Warranty – 2 Years
Labor Warranty – 3 Years
High Wearable Items Warranty – 90 Days, no labor
SportsArt Fitness is a fully integrated world-class manufacturer that produces to the highest standard of ISO with TUV Certification 9001-9002.
View the 15″ Touchscreen LCD Entertainment Option for SportsArt Cardio Equipment