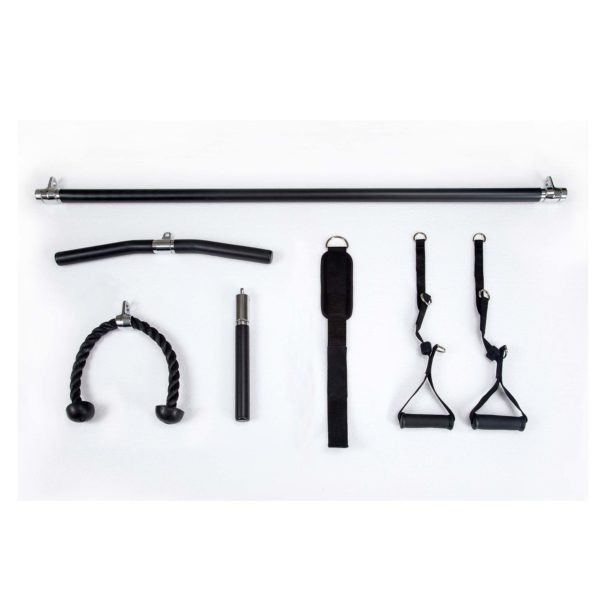 DUAL STACK FUNCTIONAL TRAINER – SPORTSART (DS972)
DUAL STACK FUNCTIONAL TRAINER – SPORTSART (DS972)
$5,595.00
$5,595.00
The SportsArt DS972 Dual Stack Functional Trainer offers a unique adjustable pulley ratio (1:2 and 1:4) giving users more workout options and increases weight selection options.
Description
SportsArt DS972 Dual Adjustable Pulley Dual Stack Functional Trainer Gym – The DS972 Functional Trainer from SportsArt Fitness is a dual stack selectorized gym machine with two cable columns offering a unique adjustable pulley ratio to give users more workout options and increase weight selection options. Select 1:2 cable ratio for heavier resistance or 1:4 cable ratio for lighter resistance. You define the motion allowing you to strengthen every part of your body while mimicking everyday activities and sport-specific movements. The DS972 Dual Stack Functional Trainer delivers the ultimate combination of aesthetics, innovation, correct biomechanics and function, along with the smoothness and features you expect from a premium product line.
The contemporary design enhances the look of any facility while the world-class components and quality ensure years of trouble free service. The DS972 is a fully functional, versatile piece of commercial strength equipment that safely and effectively offers a wide variety of total body exercises in one machine.
Purchase the SportsArt Functional Trainer on GSA contract – All SportsArt commercial strength and cardio equipment can be purchased from Ironcompany on GSA Contract GS-07F-0104M and CMAS Contract 4-12-78-0066A.
Features:
Color: Charcoal Gray
Heavy-duty round tubular steel frame
Adjustable 1:2 and 1:4 pulley ratios within same machine increases weight stack options
Dual weight stacks allow multiple users
1:4 pulley ratio offers lower starting weight and lighter weight increments (maximum resistance 41.25 lbs / 18.75 kg)
1:2 pulley ratio offers heavier starting weight and heavier weight increments (maximum resistance 82.5 lbs / 37.5 kg)
One-handed adjustable high/low pulley system
Cable travel distance of 118″ for 1:4 resistance setting or 99″ for 1:2 resistance setting
Pulley position adjustment: 41 adjustments with 1.6″ spacing
Deep-groove, 5-inch shrouded pulleys provide faultless cable tracking
Steel weight stacks with noise dampening
Stainless steel guide rods resist rust and stay smooth
Internally-lubricated 1,500 lb. steel aircraft cables provide quiet, smooth operation
Cable columns have quad nickel chrome plating finish
Integrated pull up bar for body weight training
Magnetized weight selector fork with retracting cord
Front and back shroud covers for safety
Illustrated exercises for quick reference
8 hooks for accessory storage
7-Piece Accessory Set Included:
(2) Multi-D Ring Handles
(1) Dual-Attachment Straight Bar
(1) Curved Bar
(1) Sports Handle
(1) Triceps Rope
(1) Ankle Strap
Specifications:
Assembled Dimensions: 60.2″ W x 39.4″ D x 89.2″ H
Assembled Weight: 682 lbs.
Stack Weight (per stack): 165 lbs. (75 kg)
Shipping Dimensions (on pallet): 91″ L x 39″ W x 37″ H (Freight Shipping Class 92.5)
Shipping Weight (on pallet): 849 lbs.
Full Commercial Warranty (no usage limit):
Frame – 10 Years
Weight Plates and Guide Rods – 5 Years
Cables, Belts, and other parts – 3 Years
Grips and Covers – 1 Year
Labor – 1 Year
NOTE: Not available in all markets.  Not available to medical destinations.  Please call or email before placing order.